At present the government does not regulate the making of orthotic devices meaning that any individual can sell orthoses. Therefore, it is important that you choose an appropriate facility for your needs.
1) What is the professional training of the dispenser/provider of the orthotics?
The most common professions that dispense foot orthoses are Chiropodists, Master Craftsman Shoe Makers, Orthotists, Pedorthists, and Podiatrists.
Osteopaths, chiropractors, occupational and physical therapists, shoe repairers and sports stores sometimes also dispense orthoses.
Pedorthists are medical professionals educated in the design, fit, manufacture, and modification of footwear and foot orthoses (orthotics).
Today, training to become a Canadian Certified Pedorthist (C Ped (C)) requires a degree in the Health Sciences Field, completion of an intense course in pedorthics offered through the University of Western Ontario and an internship in a clinical laboratory and footwear setting. There is training in lower limb biomechanics, gait analysis, manufacturing and fitting of foot appliances, and fitting and modification of footwear. All must occur in order to be eligible to write the certification exams. All Certified Pedorthists in Canada are members of the Pedorthic Association of Canada (add link here) and the College of Pedorthics of Canada (add link here). Our code of ethics requires a prescription from an authorized prescriber before fitting custom orthoses. It is very reassuring for the physician, as well as the patient, to know that the person doing their biomechanical assessment is also the person responsible for fabricating, fitting and doing the fine-tuning of the device prior to dispensing it.
A Certified Orthotist is a designation awarded by the Canadian Association of Prosthetists and Orthotists. The function of a Certified Orthotist involves the design, fabrication and fitting of orthoses (braces or splints) intended to prevent or correct deformities, protect a painful part of the body or improve the function of a weakened extremity. This may include anything from custom fabricated arch supports to braces for the knee, back, shoulder or arm.
Chiropodists and Podiatrists are trained and educated foot specialists including its anatomy, pathology, medical and surgical treatment, etc. regulated by the same body, the College of Chiropodists of Ontario. This means that both Chiropodists and Podiatrists have the same scope of practice in the province of Ontario.
A Chiropodist is Canadian trained. A Podiatrist is an American or over-seas trained.
A chiropodist provides assessment of the foot and the treatment and prevention of diseases or disorders of the foot by therapeutic, orthotic and palliative means.
A Doctor of Podiatric Medicine (D.P.M.) is a specialist in care of the feet concerned with the examination, diagnosis and prevention of foot disorders by mechanical, surgical and other means of treatment (Ontario Podiatric Medical Association, 2001). Podiatrists are one of six primary care professions, authorized by Ontario Law to communicate their diagnosis to patients. The podiatric physician receives conventional medical training, plus special training on the foot, ankle, and lower leg. Podiatric physicians provide treatment for 82 percent of corn and callus problems, 65 percent of toenail problems, 63 percent of bunion problems, 46 percent of flat feet or fallen arches problems, and 43 percent of toe/joint deformities.
The seven colleges of podiatric medicine all have entrance requirements which, like institutions granting MD (medical doctor) and DO (doctor of osteopathy) degrees, usually consider those with an undergraduate degree, but will consider candidates who show unusual promise and have completed a minimum of 90 semester hours at accredited undergraduate colleges or universities. All 50 states, the District of Columbia, and Puerto Rico require that they pass rigorous state board examinations before they are licensed, and most require continuing education programs for regular license renewal.
Most facilities can be checked out for their credibility through their professional associations and their local BBB.
2) Is a prescriber required?
Most 3rd party claims require proof that there is a medical necessity for the orthoses. See insurance below. Some insurance companies require the prescription to be written on the prescriber's own prescription pad.
Most reputable providers of orthotics will require a medical prescription from your family doctor or general practitioner, medical specialist (rheumatologist, orthopaedic surgeon, endocrinologist) or foot doctor (chiropodist, podiatrist) prior to designing orthotics for you. The reason behind this is that these specialists are able to eliminate other medical causes of your symptoms that are not related to mechanical alignment. You can still have a pedorthist assess and evaluate your foot and leg mechanics, but you will also need to see your medical specialist as required by the Canadian "code of ethics".
Doctors are responsible for diagnosing a person's condition and referring you to a pedorthist for treatment. The referral should include a "diagnosis" and recommendation for "custom foot orthoses".
3) Can I go through my extended health care insurance coverage?
The claimant usually knows if they are seeking out WSIB (Workers Safety and Insurance Board), Social Assistance programs, personal accident insurance, Native Indian Affairs, and the ADP (Assistive Devices Program). Each funding program has its own prerequisites on how to proceed to be eligible for a claim.
The claimant should find out in advance if their insurance provider needs:
A pre-estimate to be sent in;
A particular prescriber's credentials;
An approved provider's credentials;
Any warranty coverage;
To know what usage they are required for;
Other manufacturing information such as casting techniques, materials used, gait and biomechanical evaluation;
The claimant may find it helpful to know if their insurance has:
A coverage amount (i.e. deductibles, maximums, %ages, quantity of pairs);
A time-line of the coverage (once/calendar year, purchase-to-purchase date).
Due the radical increase of orthotic dispensing and abuse from outside health care practitioners the major insurance companies in Canada have implemented a plan of action to protect their insured from improper dispensing of orthotics and orthopedic shoes. The plan states that orthotics can only be dispensed/provided by one of the following professionals: Chiropodist, Podiatrist, Pedorthist or Orthotist. Green Shield has taken this a step further; to dispense orthotics under their plan, the dispensing professional must also be registered under contract with Green Shield as a preferred provider. These professions have associations that self-govern their conduct so that the client is getting professional and ethical treatment. Be wary of facilities that charge your purchase based on what the insurance coverage may entail.
The majority of insurers also request that an eligible prescriber submit the prescription before reimbursement is provided.
4) Are the measuring and casting techniques important?
The method of casting is critical to the success of the orthotics. Casting methods have advantages and disadvantages and your pedorthist will determine the best method for you. Some techniques can be performed in full, semi or non-weight bearing, static (still) or dynamic (moving). The foot type determines which system may be better. Determining factors may be: if there a rigid or flexible foot; a rigid forefoot deformity. Non-weight bearing casts usually create a more corrective type of orthotic whereas weight-bearing a more accommodative type. Some of the most common techniques are: Plaster cast; polyester cast; heat moldable foam or wax; foam box impression; 3-dimensional computer scan; 2-D pressure plate computer, and inkblots. The last two casting techniques only obtain a 2-D image of a foot. At Sole Decisions are two main methods are: plaster or polyester slipper casting and foam box impressions.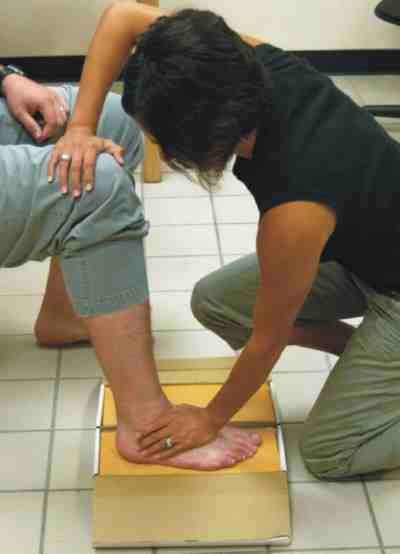 Foam box involves pushing the foot into a foam box. This can be a non- or weight bearing technique often used if someone cannot get on a table for plaster casting or if a less aggressive (corrective) shell shape is desired.
Plaster slipper casting involves applying plaster directly to the foot in order to capture the contours and shape of your foot. The casting will be done with you lying down on your stomach or back. This is a non- weight bearing technique and takes 5-7 minutes.
Semi-weight bearing while seated can give a more accommodative shell but is rarely used.
Advantages of slipper casting in non-weight bearing are:
The non-weight bearing foot does not capture its structural defects; for example if the arch flattens excessively (hyperpronation, pes planus) then this occurs when the weight is on the foot. This is why most of us believe that our arches are fine – we look at them when there is very little weight on them, for example when we are sitting.
Precise positioning of the foot by the pedorthist can hold the joints including the ankle, subtalar (below the ankle), midtarsal (bones in the middle portion) and the forefoot. Positioning the forefoot up or down can increase or decrease the height of the arch and the overall correction of the foot. Most other casting methods cannot provide this degree of flexibility of intrinsic (internal) cast correction.
plaster or polyester slipper casting
Computer systems use contact data as an image of your foot from which to fabricate the orthotic. Dynamic cast orthoses are usually produced from the information produced when you walk across a pressure sensitive pad. This means that the images are taken in a weight bearing position and therefore captures an image of your foot when it is already compromised in function – already pronated or supinated – the position that may be contributing to your symptoms. Ultimately this is a 2 dimensional image derived from where you foot makes contact with the mat. The computer uses algorithms to best estimate the actual shape of your foot. It does not in fact know whether the arch of your foot is 1mm or 10mm off the ground. At Sole Decisions, our techniques used and required by the Association capture an accurate 3 dimensional model of your foot, and the orthotic is designed from this.
Another static system such as Amfit uses Computer Aided Design and Manufacturing (CAD-CAM) to take a 3-D imprint from pegs rising up to the foot surface to take a mold. It can adjust the final product with corrective intrinsic pieces prior to and after scanning the foot. It is somewhat limited in its use of materials able to be ground out by the mill that produces the orthotic.
The use of multiple lasers to create an electronic 3-D image is evolving and will likely be capable of equaling the flexibility of slipper casting in the coming years. Once the negative impression (plaster cast or foam box) of the foot is taken, it is scanned by a 3-D laser scanner which converts it to a digital file. CAD/CAM equipment then uses the digital file to produce a positive mold.
Inkblots done at Home Shows or mail-in orders for orthotics may well help alleviate mild symptoms and feel generally comfortable. But you should be cautioned on the expense of these devices as they are not a truly custom molded device and may have the same therapeutic affect as a much less expensive off-the-shelf arch support. These types of arch supports are generally made of a fairly flexible rubber-like material and claim to be custom to your feet. They are however, massed produced products providing little more support or benefit than a non-custom insole.
5) Are the construction techniques and materials important?
Construction techniques can vary such as adjusting the molds before the shell is molded (intrinsic modification) for the final orthotic. Adjusting the orthotic after the shell is molded is an extrinsic modification. The effect on the final product can vary dramatically depending on the amount and time modifications are done.
The size/length of the orthotic devices is dependent on the foot type/problem and sometimes space available in the footwear. There are typically 3 lengths: full, ¾ and ½. We have our own manufacturing facility and we use the best products available to create your orthotics. The composition of your orthotics will be determined based on your needs. Some orthotics are made of rubber-based materials, and others are made of semi-rigid plastics. They can then be covered with a durable top cover and cushioned material to provide extra comfort.
Material choices should vary depending on the foot problem and room available in the footwear and the shoe characteristics such as shape and support. The following are 3 basic types.
Rigid Orthotics
Made from a wide assortment of thermoplastic materials, rigid orthotics are generally used when maximum foot control is desired. Because these devices are not as bulky as those in the other categories, they are also used when shoe room is a factor. The wide range of material properties allows the pedorthist to vary the rigidity and control level of these devices to meet the individual needs of the patient's feet. Flexibility is increased if the material used is thinner and the wall heights are lower.
Semi-rigid Orthotics
Semi-rigid orthotics provide a blend of support and cushioning. Through the lamination of various low, medium, and high-density foam materials, this type of orthotic provides moderate control and some cushioning. Firm devices tend to be bulkier than semi-rigid orthotics, making them more difficult to fit into some footwear.
Soft Orthotics
When bony prominences in the foot cause pressure points, maximum cushioning and/or accommodation of soft orthotics is required. These devices provide minimal support and, because of their bulk, generally require the use of extra-depth footwear.
Some materials have resin stiffening agents added to help create a new shape. Some materials are molded with time and sheer pressure. This type generally doesn't last as long though.
Raw materials are usually heated and draped over the positive mold and vacuum pressed or left for a time to set to their new shape pulling the material tight to the contours of the mold creating the orthotic shell. Once the shell is produced the lab finishes the orthotic to the specifications of the pedorthist based on their assessment. Depending on the material used and the shape it's molded into durability and support can vary.
6) What kind of footwear will they work in?
Can they be used in all your shoes? This is not always possible due to foot shape changes when wearing different heel heights and varying depths in footwear that may or may not be able to accommodate different thicknesses of orthoses. Are they suitable for athletic footwear? The type of activity they will be used for may make it necessary to change material types used. Do you have to purchase more suitable footwear? At times the footwear choice may be the appropriate style but the wrong fit/size. Your pedorthist is trained to help you with the correct decision. It's best to purchase the shoes after receiving your orthotic. The final fit should be assessed in case any adjustments/trimming are necessary.
7) What are the charges?
Inquire as to the price range the facility is charging and what this includes to see that you are getting good value. Does it include adjustments or repairs? Are multiple pairs discounted since the cast may be reused?
Since as pedorthists we manufacture our own devices, our prices are consistently in line with, and generally below, those of practitioners using external labs.
At Sole Decisions, we are happy to assist our patients with the financial aspect of their pedorthic care. Our service to our patients includes help with claim forms, insurance billing where eligible and a payment plan when needed.
8) Are there any warranties?
For how long are they covered under warranty? Is natural wear included or material defects covered? Is there a money back guarantee, in part or full, and in what time frame? Are repairs or adjustments covered under warranty? Changes in the condition due to injury or surgery may mean a reevaluation is necessary.
9) What is the delivery time?
Are the hours of operation convenient for you? How long will the appointments take? How soon can you be seen for an appointment? No one wants to wait a long time when they are pain.
How fast will I get my final product delivered? Most computer-generated orthotics are fabricated in various facilities across the country. If you have problems with your orthoses, they must be sent back to that facility for any changes to be made. In-house labs are usually quicker. At Sole Decisions, we design and fabricate all of our own orthoses locally. This allows the pedorthist continued access to your orthoses during fabrication, and allows us to make modifications or adjustments quickly. This means that you are not without your orthotics for a couple weeks while changes are made, and we can better evaluate the result of a change. Not too many people want to wait 1 month for an adjustment because the product is mailed away.
10) Is there an adaption period?
Will they be uncomfortable or take time to get used to? Generally they should be comfortable but not create blisters or joint pain. Some soft tissue (muscle, ligament) ache maybe normal and temporary. A reasonable break-in period may vary with each case but you should have an idea of what to expect. Start with shorter periods building up your time in them to adapt to the new changes. Typically adapting takes longer when the foot condition is more severe, has been around for a long time or the person's health or flexibility is poorer.
www.cbc.ca/marketplace/sole_patrol/ – Link to CBC Marketplace Investigation re: Orthotics and Fradulent Practices